Bouwpakket
The secrets of kitebuilding
Educatief en creatief bezig zijn. Maak uw eigen vlieger. Inclusief alle benodigde materialen en duidelijke handleiding met foto`s, inclusief haspel en vliegerlijn. Ook geschikt voor workshops.
Onze serie Re-creatief is speciaal ontwikkeld en ontworpen door DFO voor de creatievelingen onder ons. Verkrijgbaar in diverse uitvoeringen.

Vliegeren is een kunst, vlieger bouwen is een kunstwerk. Voor al de producten uit onze serie Re-Creatief is het belangrijk dat je begrijpend kunt lezen en secuur kunt werken. Een paar rechter handen is zeker meegenomen om tot een goed resultaat te komen.
Wilt u met kinderen aan de slag, dan is het zeker raadzaam eerst zelf te ontdekken hoe een vlieger wordt gebouwd.
Deze producten zijn niet in 1 uurtje te bouwen, reken toch minimaal op 4 a 5 uren. Niet geschikt voor kinderen onder de 10 jaar.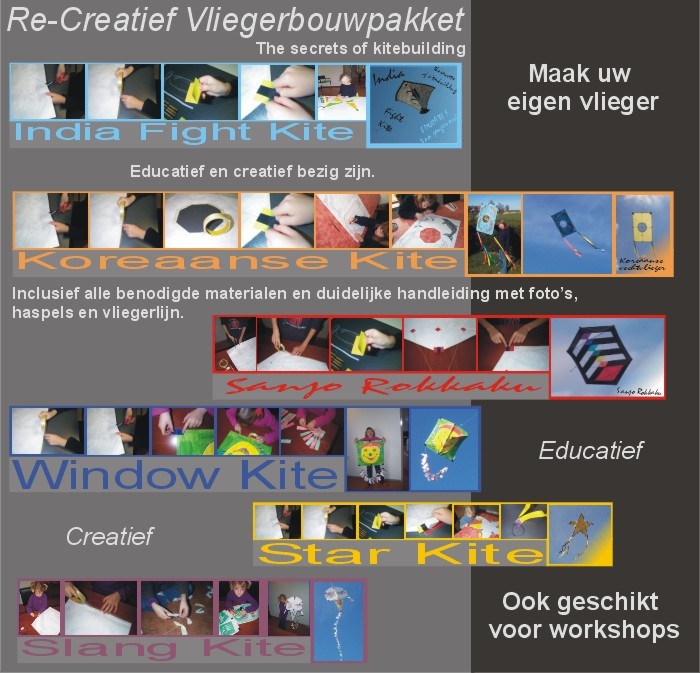 uitverkocht

uitverkocht

uitverkocht

uitverkocht

uitverkocht

uitverkocht